Announcing Rising Residents
July 29, 2020
Rising: Climate in Crisis Residencies invite artists to examine the severity of the climate crisis and be agents of change to guide our collective understanding, response, and vision as we shape our shared future. In light of COVID-19, Rising Residents will be scheduled over the next 18 months.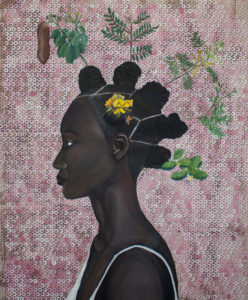 Claire Alexandre (NC) will create a series of mixed-media painted portraits of folks of color at the community forefront of New Orleans' climate change adaptation actions. The six portraits will be symbolic of modern academic research paper paragraphs (introduction, hypothesis, methods, results, discussion and conclusion) as a way to criticize the rigid exclusivity of institutional research methodology and empower people whose existence within these frameworks has been reduced to data. Claire Alexandre is an intersectional artist and storyteller who weaves autobiographical reflections with ancestral knowledge while exploring larger themes of environmental, gender and racial justice. She seeks to deepen our collective understanding of Black community prosperity and its close ties with ecologies of all scales. Through mixed-media painting, street art and botanical knowledge, she uses her skills to create modern day mythologies and heroes honoring the resilience, power and complexities of Black Diasporic identity, particularly that of womxn. Image: Claire Alexandre, Resistance (2), 2018, acrylic and paper on canvas.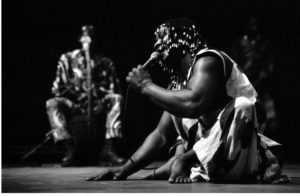 Sidiki Conde (NY) will use his residency to immerse himself in the culture, nature and music of the region and compose a series of songs about the rising crisis of climate change. Within the New Orleans community, he will host a series of traditional African music and dance workshops with both children and adults. Sidiki Conde's music derives from the traditional rhythms of Guinea. In keeping with the West African griot traditions of his homeland, his lyrics are his own compositions within which he chronicles his life's journey. Conde has performed with West Africa's premier music and dance ensembles, including the prestigious Les Merveilles de Guinea and the Ballet African. His music brought him to America in 1998 and in 2007 he was awarded the National Heritage Fellowship, Lifetime Honors from the National Endowment for the Arts. Image courtesy of the artist.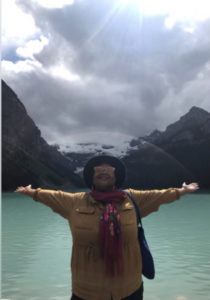 Lisa E. Harris' (TX) residency will support the regional development of an international research project, ONSHORE TRILLING: What to Do When the Earth Sings the Bruise, by affording opportunities for mutual creative exchange between Harris and the Women of Cancer Alley and Rise St. James. This multi-year project will become a performance cycle based on the life cycle of an oil and gas field, and will be informed by the environmental practices of onshore women-led communities, near productive drilling communities around the world. Lisa E. Harris is an independent and interdisciplinary artist, creative soprano, performer, composer, improvisor, filmmaker, writer, singer/songwriter, researcher and educator from Houston, Texas. Recognized by Huffington Post as "one of fourteen artists transforming Opera," Harris' work resists genre classification as she focuses on the energetic relationships between body, land, spirit and place. Using voice, theremin, electronics, movement, improvisation, meditation and new media to explore spatial awareness, relationality, panoptic surveillance and sonic profiling, she maintains a focused concentration on healing in performance and living. Photo by Lisa Harris.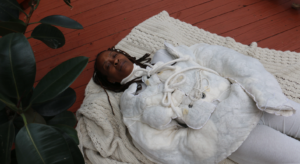 LaChaun Moore (SC) will create an agriculturally-based installation titled Heirloom utilizing heirloom plants as a catalyst to talk about the historical context of the natural environment and how that differs from ancestral and familial ties. LaChaun Moore is an interdisciplinary artist who engages the public with her ethnographic fiber making and research practice. Her practice focuses on plant species that are linked specifically to Black and Indigenous farmers who have been systematically exploited for their agricultural ingenuity. She earned her BFA in Integrated Design at Parsons, The New School for Design with a focus on Alternative Fashion Strategies and Social Practice. There she began her grant-funded research "Perceptions of Cotton and Agriculture within the African American Community." She has since built a small-scale farm growing naturally-colored green and brown cotton as well as ancestral indigo sourced from a Low Country plantation. As part of her research LaChaun co-hosts the WEAVE podcast. Her work envisions investigating, documenting, and implementing ancestral knowledge as the start to chipping away at the inequalities within the fiber system. Image: LaChaun Moore, Mommy, Mixed Media (raw naturally dyed cotton & cotton gauze/sewing construction).
Lydia Y. Nichols (LA) will continue work on a speculative dark comedy stage play titled Don't Look Away, set at the turn of the 22nd century in a post-reparations Gulf South, following a climate event that results in the disappearance of New Orleans. Lydia Y. Nichols is a writer native to New Orleans. Her work considers the lived experience and historical imaginary of race and the ways in which they impact our ecology as expressed in vernacular culture, the arts, and social justice movements. Lydia's essays have been published in 64 Parishes, theGrio.com, Pelican Bomb, Tribes Magazine, Signals Magazine, and on her personal blog Modern Maroon. She is the Chief Cultural Columnist for the public interest news outlet Bayou Brief. Image courtesy of the artist.
J.M. Nimocks (IL), madame joy ma, will produce a public radio show that illuminates the work of QTBIPOC healers/organizers of southern Louisiana who work with the earth. They will also organize a kiki ball centered around the theme of QTBIPOC cultural preservation as related to physical environment and queer apothecaries. madame joy ma is an anti-disciplinary artist and scholar from Sunflower, Mississippi who is most concerned with building utopias for Black, trans, gender variant, disabled communities across the globe through installation art, performance, scholarship, and sounds. joy ma chooses the mainstream and kiki ballroom scene as their place of refuge, spiritual freedom, and artistic expression. They are a member of the kiki House of Blyndex based in Brasil, a founding member and creator for Ghetto Heaven Collective, and are forming a new, mainstream ballroom house in the Pacific Northwest. Their creative mediums are dj-ing, sound production, curation, performance, and hosting elaborate dinner parties for their chosen family. Image courtesy of the artist.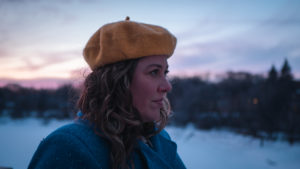 Andrina Turenne (Canada) will use her residency to explore Indigenous and local perspectives on water, language and land through music, past and present, as it relates to climate and landscape. In doing research, exploring geographic and cultural throughlines, and speaking with people on the land, her goal is to produce recordings and performances of music and stories related to these themes, both collaboratively and independently. Andrina Turenne is a bilingual singer, songwriter, and musician from Winnipeg, Manitoba. She grew up along the banks of the Red River in the historic Francophone-Métis settlement of Saint-Boniface, and is a proud member of the Métis Nation. She has worked in music for over two decades, from collaborating in groups such as JUNO Award-winning Chic Gamine to a new solo career she has been carving out since 2018. She has contributed vocals to over 30 professionally-released albums and has recorded seven full-length albums. She has played festivals of all sizes and has toured extensively throughout North America, South America, Europe, Australia and Africa. She draws inspiration from her own life experiences and her travels, as well as the rich history and raw beauty of the land she grew from. Photo by Brodie Parachoniak.
While we are limited in the number of residencies we can award, we would like to recognize the following waitlisted and semifinalist artists for their strong applications and commitment to their practice. We would also like to express deep appreciation to our jurors for their thoughtful work in selecting this year's residents.
WAITLIST
Virginia Hanusik, MILAGROS Collective, Yudith Nieto
SEMIFINALISTS
Christine Baniewicz, Isabelle Carbonell, free feral and Yantó São, Hannah Hirsekorn, Vincent Tsung-Yu Hsu, Simi Kang, Stacy Kranitz, Sophie T. Lvoff, Ignacio Perez Meruane, Caroline Picard, Steve Rowell, and Lindsey Scherloum.
JURORS
Aron Chang, Urban Designer & Educator, Water Leaders Institute
Jeffery U. Darensbourg, Writer, Former Resident, Tribal councilperson of the Atakapa Ishak Nation
Asali DeVan Ecclesiastes, CEO, Ashé Cultural Arts Center
Tia-Simone Gardner, Artist, Former Resident
Maaike Gouwenberg, Curator and Director, Deltaworkers
Amalia Leguizamón, Associate Professor of Sociology, Tulane University
Amy Lesen, Associate Professor, Minority Health and Health Disparities Research Center, Dillard University
Jan Mun, Artist, Former Resident
Michelle Ramos, Executive Director, Alternate ROOTS