Support A Studio in the Woods this Holiday Season
December 15, 2020
Dear Friend,
How do you measure the value of a day…a week…a month of uninterrupted creativity? Over and over again, A Studio in the Woods' resident artists and scholars tell us that the experiences they have on our wooded campus are transformative – a critical factor in fostering creative responses to the most acute challenges of our age.
I have been an academic writer for twenty years and the residency at A Studio in the Woods may be the best single thing that has ever happened for me… if I could come and sit in that studio or a space similar at least once a year for the rest of my career I would do it over and over again, so transformative was the benefit. – Dr. Laura Roseanne Adderley, Tulane SLA Scholarly Retreat Resident*
Every moment spent at the Studio is an invaluable opportunity for inspiration – and every moment is made possible by the generosity of our friends and supporters. Today, we ask you to include a gift to the Studio in your year-end giving.
The Studio's artistic and scholarly residencies are the lifeblood of our work. As the pandemic wears on, we continue to support our region's thinkers and makers via dynamic programming that only the Studio can provide. In the year ahead, a wide range of innovators will experience the magic of the Woods for themselves: visual and performing artists exploring the climate crisis; emerging and established writers kicking off the inaugural year of the Writer's Cabin; scholars from Tulane, Dillard and Xavier Universities; and local artists of color who were granted Covid-19 Relief Residencies.
Your gift of $50, $100, $250, $500, or $1,000 will provide time, space, support, and a stipend to champion the creation and dissemination of these residents' new works. Every dollar you donate to the Studio is a direct investment in our city and region's creative engine.
While here at A Studio in the Woods, free to really concentrate on a project I've been working on, in one way or another, for about a decade, I have finally experienced coming into my own as a storyteller, a researcher, and a poet. – Jeffery U. Darensbourg, Adaptations Resident**
As this challenging year draws to a close, the power of your partnership cannot be underestimated. Your investment will create a wide-reaching ripple effect, impacting not only our organization, but most importantly, our residents. Together, let's support those who ignite our imaginations, illuminate our challenges, and offer innovative ways to examine our world…brighter days are on the horizon.
With gratitude,
Ylva Rouse, Board Chair
Ama Rogan, Managing Director
To contribute to A Studio in the Woods, please click below to donate via our secure site.
Support A Studio In The Woods
You may also call the Studio at 504-392-4460 with your donation.
Friends of A Studio in the Woods is a non-profit organization under I.R.S. section 501(c)(3). All charitable contributions are tax deductible to the extent allowed by the contributor. Federal Tax ID number: 72-1502728.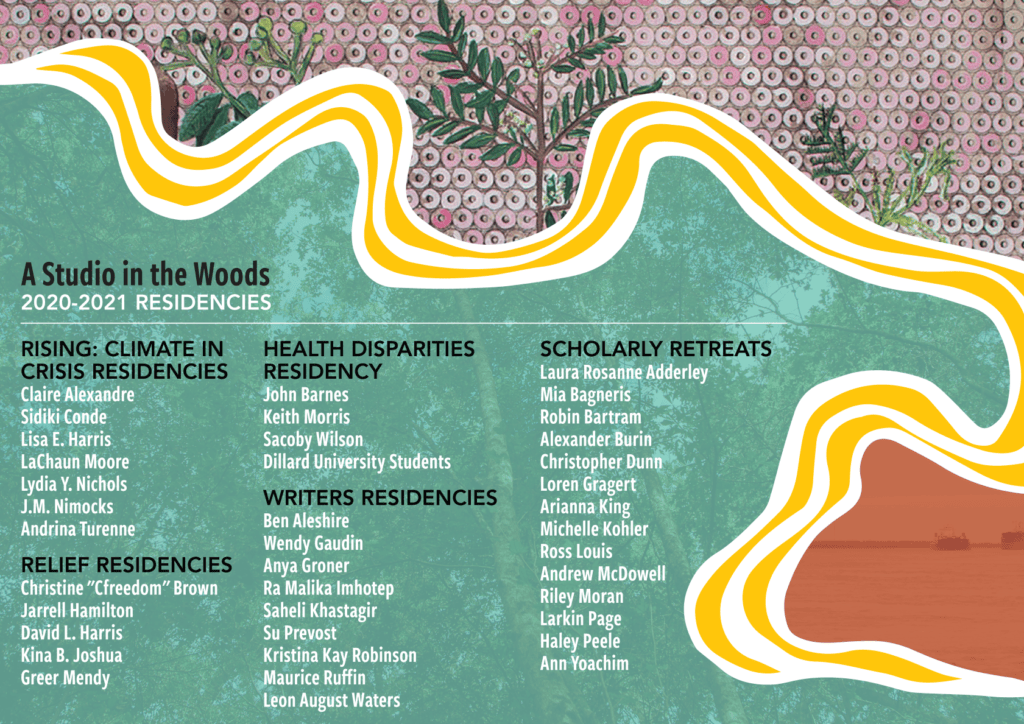 P.S. As you consider a gift to the Studio, please remember that the CARES Act will allow individual taxpayers to deduct donations to charities of up to $300 on their 2020 federal tax return, even though they take the standard deduction. Married-filing-jointly taxpayers will get an above-the-line deduction of up to $600. Please consult your tax advisor to learn more about how other provisions of the CARES Act can make charitable giving in 2020 more beneficial for many taxpayers.
*Dr. Adderley will be in conversation with Emerging Writer Resident Leon A. Waters about Louisiana's 1811 Slave Revolt on Thursday, December 17 at 7pm presented by the Louisiana Charles Deslondes Chapter of the Association for the Study of African American Life and History. Register here.
**Jeffery Darensbourg has work created while in residence currently on view in Make American What America Must Become at the CAC. View here.