Aurora Levins Morales: Gulf South Poetry and Ecology
March 21, 2019 @ 6:00 pm

-

7:30 pm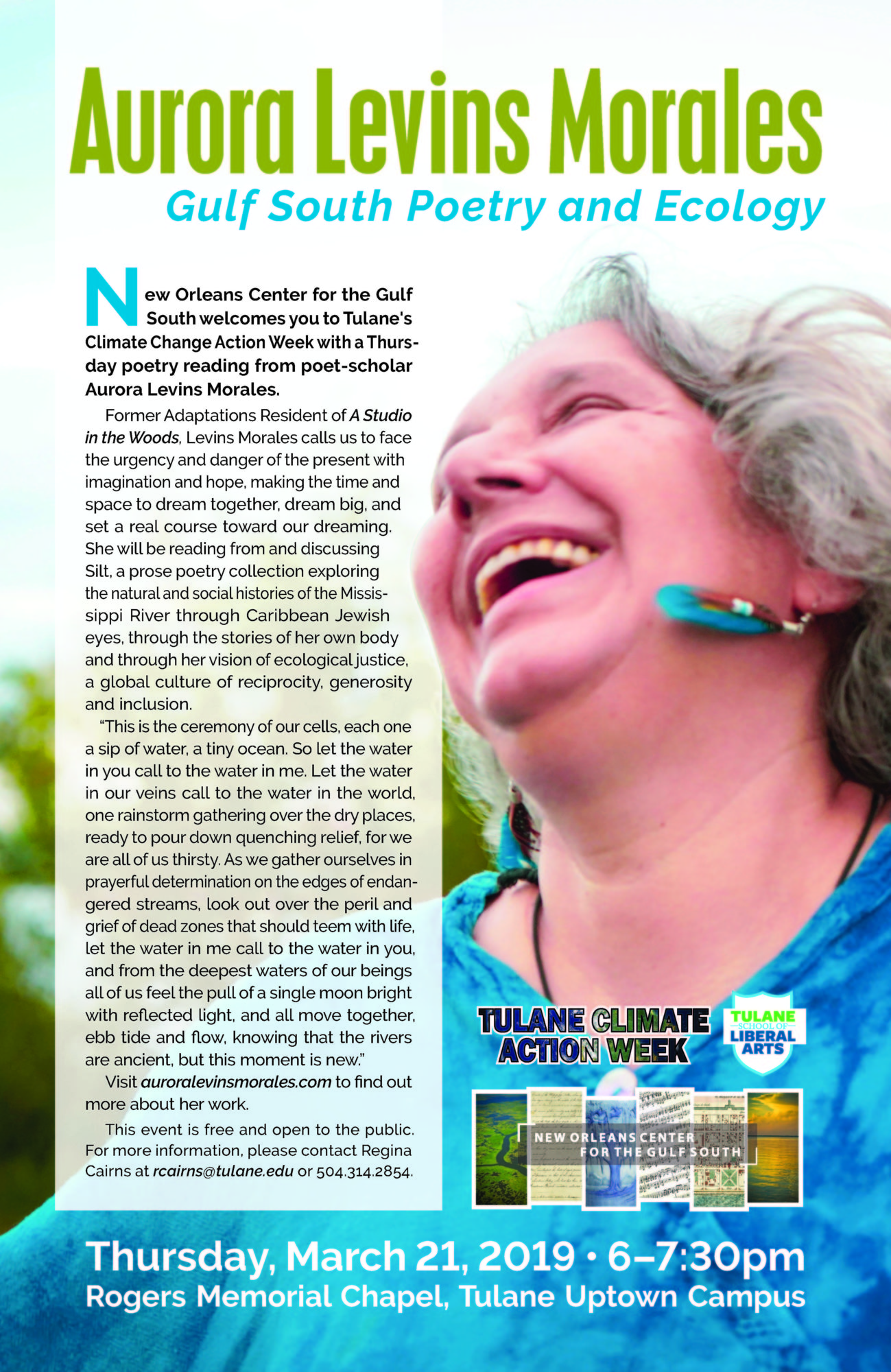 New Orleans Center for the Gulf South welcomes you to Tulane's Climate Action Week with a Thursday poetry reading from poet-scholar Aurora Levins Morales.
Levins Morales calls us to face the urgency and danger of the present with imagination and hope, making the time and space to dream together, dream big, and set a real course toward our dreaming. She will be reading from and discussing Silt, a prose poetry collection exploring the natural and social histories of the Mississippi River through Caribbean Jewish eyes, through the stories of her own body and through her vision of ecological justice, a global culture of reciprocity, generosity and inclusion.
"This is the ceremony of our cells, each one a sip of water, a tiny ocean. So let the water in you call to the water in me. Let the water in our veins call to the water in the world, one rainstorm gathering over the dry paararllaces, ready to pour down quenching relief, for we are all of us thirsty. As we gather ourselves in prayerful determination on the edges of endangered streams, look out over the peril and grief of dead zones that should teem with life, let the water in me call to the water in you, and from the deepest waters of our beings all of us feel the pull of a single moon bright with reflected light, and all move together, ebb tide and flow, knowing that the rivers are ancient, but this moment is new."
Visit her website: http://www.auroralevinsmorales.com/.
This event is free and open to the public. For more information, please contact Regina Cairns at [email protected] or 504-314-2854.