Does lead in New Orleans have mockingbirds singing the blues?
March 24, 2015 @ 9:00 am

-

1:00 pm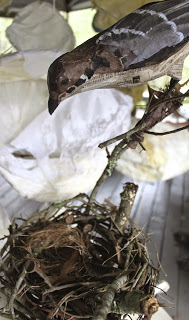 Artist Jessica Levine, in collaboration with Karubian Lab, will create an interactive, mixed media visual art installation to bring the study titled,"Does lead in New Orleans have mockingbirds singing the blues?" to wide-spectrum public attention. The installation will be designed as an impromptu art spectacle within a 10 x 10 foot pop-up tent, to be staged where people gather: festivals, parks, schools, farmers markets. The installation hopes to enroll city dwellers in citizen science as it engages the viewer in artful wonderment and delight, to celebrate and appreciate the mockingbird as a beloved New Orleans icon of resilience, musicality, and thriving urban nature.
You can see the installation in person here:
Tuesday, March 24th, 2015 from 9am-1pm
Crescent City Farmers Market
Friday, May 8th, 2015 from 6-8pm
Ashé Cultural Arts Center
Jessica Levine inhabits a niche as a multidisciplinary environmental artist, making interactive, kinetic sculptural installations that engage by delight, as they deliver science content. She is the recipient of numerous grants and awards, including the West Virginia Governors Award for Arts Leadership. Her work has been exhibited widely, and recently at the Asheville Art Museum and the Thoreau Center for Sustainability at The Presidio, San Francisco, and is in the West Virginia State Museum Collection. She has completed many community-engaged projects, in the Appalachian region and Haiti and the Virgin Islands.