Ezell: Ballad of a Land Man
October 21, 2021

-

October 24, 2021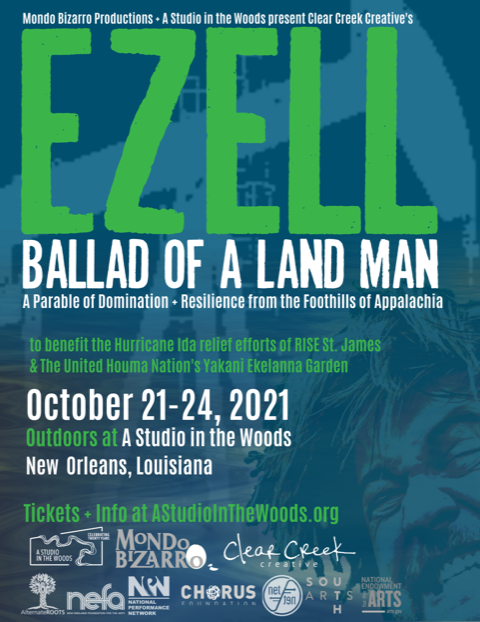 A Clear Creek Creative eco-cultural theater experience in 5 acts presented in partnership with Mondo Bizarro Productions and A Studio in the Woods to benefit Hurricane Ida Relief through RISE St. James and The United Houma Nation's Yakani Ekelanna Garden.
Ezell: Ballad of a Land Man is an environmental, cultural and spiritual parable derived from living in the foothills of Appalachia, one man among many seeking to make sense of the time, place and condition in which we live.  In the story, Ezell's choices, traumas, ancestors and more intersect with themes of domination and resilience as he seeks to take advantage of an anticipated fracking boom and the opportunity to reconnect with the people and land of his raising.
The performance of Ezell is an immersive experience in 5 acts including The Welcome, Journey, Story, Reflection & Celebration.  The full Ezell experience is designed to engage our collective desire for connection and belonging, to honor nature and bind us intimately within its embrace, to invoke the resilience, love and lessons of our ancestors and generations yet to come.
Given the unprecedented impacts of Hurricane Ida on so many communities in Southeast Louisiana, we are using the moment of Ezell's presentation at A Studio in the Woods to raise awareness and money for organizations doing important relief work on the ground.  100% of proceeds will be donated to hurricane relief.  Sponsorships by Alternate ROOTS and several generous individuals as well as the support of our Ezell funding partners are allowing us to offer the Ezell experience in New Orleans on a donation-basis.
TICKETS
Purchase tickets below by showing. All performances will take place at A Studio in the Woods, 13401 Patterson Rd. New Orleans, LA 70131.
Thursday, October 21, 3:30pm – 7pm
SOLD OUT – Friday, October 22, 3:30pm – 7pm
SOLD OUT – Saturday, October 23, 10am – 1:30pm 
SOLD OUT – Saturday, October 23, 3:30pm – 7pm 
SOLD OUT – Sunday, October 24, 3:30pm – 7pm
ACKNOWLEDGEMENT
We acknowledge the privilege and complexity of living, working and producing the Ezell experience in Bulbancha. We strive to be good stewards of the lands and to resolve the legacies of oppression and domination that have come before and persist today. We offer the experience of Ezell with a humble, healing spirit and in recognition of all those who have come before and are yet to come in this place and in all the places we visit.
THE EXPERIENCE
Here's what to expect when you arrive on site.*
Act 1: The Welcome. Orient to the experience and site, connect with your journey guide and enjoy a tasty treat & drink if you'd like.
Act 2. The Journey. Make a contemplative trek with guide & group to the performance site amidst woodland art & music.
Act 3. The Story. Witness Ezell: Ballad of a Land Man performed in a natural and accessible setting.
Act 4. The Reflection. Engage with your guide, the surrounding environment  and one another to embody the themes of Ezell as you return from the performance site for the final act.
Act 5. The Celebration. Enjoy live music and a locally-sourced meal inspired by New Orleans cultural traditions intertwined with the story & place of Ezell.
*See notes regarding accessibility below.
BE PREPARED
We recommend:
comfortable closed-toed shoes & socks
long pants & sleeves
bug deterrent
water bottle

if you'd like to carry water with you to the performance site

cash

if you'd like to contribute for special refreshments

a light

(we will finish by dark, though it's a good idea to have a light available in case you linger after the meal)
You will move through this experience together in a small group. If you are attending with others with whom you'd like to be grouped, please be sure to let us know when you register.
ACCESSIBILITY
We strive to make this outdoor immersive experience available to everyone who would like to join us. Below is some information regarding accessibility.  
The Journey portion of the experience will be offered in at least two formats:

An option that may involve walking up and down for a total of .5 miles with mild inclines.

A more physically accessible option that involves moving less than .25 miles along level ground between parking, performance, and return to parking with surfaces that include blacktop, well-packed gravel and about 25 feet of grass to traverse.  If you intend to choose this option, please indicate if wheelchair or other vehicle-assisted access may be necessary.

Bathrooms will be accessible within 50 yards of the parking area and welcome / celebration site. Distance to the bathrooms during the performance will be 25 yards.

The Celebration portion of the experience will include a meal with vegan, dairy-free and gluten-free options for most menu items.  We will do our best to address other allergen information on site as needed.
If you have additional questions or needs, please indicate those as you are registering for your tickets (or contact [email protected] prior to purchasing your ticket).
COVID-19
In line with Tulane University's Covid-19 policies, all attendees are required to provide proof of vaccination or negative PCR test within 72 hours at the entrance to the event. Masks will be required when not eating or drinking. The event will take place outdoors.
BACK STORY
Sharing Ezell in New Orleans is a continuation of the cross-regional dialogue on fossil fuel extraction and climate change which began when Clear Creek Creative presented ArtSpot Productions & Mondo Bizarro's Loup Garou (2010) and Cry You One (2014) in Kentucky. We have continued to work together each year since, training and skill-sharing and deepening our relationships within each others' communities. As we engage in this work, we continue to learn from one another and be inspired by the resistance and resilience efforts in each of our communities.
Mondo Bizarro's Co-Artistic Director, Nick Slie, has been inspired by A Studio in the Woods for over fifteen years and recently completed an Adaptations Residency there in support of a new project called Invisible Rivers. While in residency, Nick was moved by the potential of partnering with Studio to present Ezell and approached the staff who agreed to join Mondo and Clear Creek in presenting this experience.  A Studio in the Woods, Clear Creek Creative and Mondo Bizarro have been utilizing the arts as a tool for catalyzing emotional engagement in the essential social and environmental issues of our regions for over twenty years. 
Communities in Southeast Louisiana and the Appalachian foothills are both facing existential climate threats which—while they look very different on the surface—share something fundamental. The oil and gas industries have deeply impacted both places for too long, and while they have succeeded in providing some economic stability, they have profoundly influenced our current climate crisis and made land where families have lived for generations no longer liveable. Both of our communities have a lot of learning and strategizing to do based on our discovery that we are facing the same fundamental problem: how to transition from the extractive industry that is destroying our land and sickening our communities but is often the only economic game in town, and what to build in its place.
THE TEAM
The Ezell experience has been created and is manifested in ensemble by:
Written and Performed by Bob Martin
Produced & Guided by Carrie Brunk
Directed by Nick Slie
Designed by Jeff Becker
Music Direction & Sound Design by Cory Shenk
Guide Direction & Performance + Musical & Production Support by Nicole Garneau
Guide & Musical Performance + Culinary Support by Faye Adams-Eaton
Music Performance & Technical Support by Jacob Mudd
Guide & Musical Performance + Design Support by Clarity Hagan
Production Coordination & Musical Support by Hannah Burt
We have the honor to be hosted in Bulbancha by the incredible team at A Studio in the Woods alongside our longstanding artistic family at Mondo Bizarro and Catapult Studios. Heartfelt love and appreciation to all of these amazing people and so many others by extension who have made Ezell possible:
Production Management by Ama Rogan, Cammie Hill-Prewitt, Grace Rennie, Daniel Pruksarnukul & Nick Slie
Production Support by David Baker, Joe Carmichael & Gary Watson for A Studio in the Woods and Bruce France, Joanna Russo & Jeff Becker for Mondo Bizarro
Indigenous Culture Bearer, Music & Guide Performance by Jeffery Darensbourg
Guide Performance by Lisa Shattuck, Kendra Unique & Synamin Vixen
Music Support by Lyle Werner
Culinary Coordination by Nick Slie with culinary artists Rod Eddington | Joie de Vie, Madeleine Kelly, Joan Murray, Nick Slie, Billy Zeller, Brad Zeller and fresh local greens from Covey Rise Farms
Production Assistance by Aaron Richmond-Havel
Design & Documentation Assistance + Photography by Melisa Cardona
Videography by Bruce France
New Orleans Center for Creative Arts (NOCCA) Collaboration by Dr. Kate Kokontis & Daniel Pruksarnukul
Printing Donated by Antenna's Paper Machine
Housing Donated by A Studio in the Woods, Jeff Becker & Lisa Shattuck, Robin & Scott Borne, Madeleine Kelly & Nick Slie, Lisa Mount & MK Wegmann
GRATITUDE
All of the work we do through Clear Creek Creative is made possible by the generosity and collaborative spirit of our communities near and far. Deep appreciation to our funding partners for recognizing the value of this work and investing it. Ezell: Ballad of a Land Man
is made possible with funding by the New England Foundation for the Arts' National Theater Project, with lead funding from the Andrew W. Mellon Foundation and additional funding from the Doris Duke Charitable Foundation.
is a National Performance Network (NPN) Creation & Development Fund Project co-commissioned by Carpetbag Theater in partnership with Mondo Bizarro and NPN. The Creation & Development Fund is supported by the Doris Duke Charitable Foundation, the Andrew W. Mellon Foundation, and the National Endowment for the Arts (a federal agency). NPN has also provided support through its Storytelling & Documentation Fund made possible by generous support from the Doris Duke Charitable Foundation.
is made possible, in part, through a Continuation grant for our partnership with Mondo Bizarro from the Network of Ensemble Theaters' Travel & Exchange Network (NET/TEN), supported by lead funding from The Andrew W. Mellon Foundation.
is funded in part in New Orleans by a grant from South Arts in partnership with the National Endowment for the Arts and the Louisiana State Arts Agency.
is touring to New Orleans and other communities on the frontlines of the fossil fuel economy with support from the Chorus Foundation in alignment with their commitment to work together with frontline communities for a just transition to a fair and sustainable economy.
has also been supported through an Al Smith Fellowship Award granted to Bob Martin for artistic excellence from the Kentucky Arts Council, the state arts agency, which is supported by state tax dollars and federal funding from the National Endowment for the Arts.
was seeded and evolved over many years with the support of Alternate ROOTS through the Partners in Action program, an Artistic Assistance grant, fiscal sponsorship and the ongoing learning & support of an amazing network of artists. Special thanks to ROOTS for extending Solidarity Funds to help make this production a benefit for Hurricane Idea relief efforts.
is sponsored in New Orleans by Antenna's Paper Machine with donated printing of this program.
is supported in Bulbancha with donated advertising by WWNO 89.9, New Orleans Public Radio.
is able to donate the proceeds of all ticket sales in New Orleans to RISE St. James and the United Houma Nation's Yákani' Ékelanna' Garden due to the inspiration and generosity of Linda Martin as well as donations of all sizes and types from many other members of our families and communities.
We are humbled & thrilled by the support we've received to bring Ezell to full fruition. We give thanks for living and working in such an abundant place and having countless opportunities to do meaningful & magical work with incredible people.