How to Build a Forest
October 23, 2015

-

October 29, 2015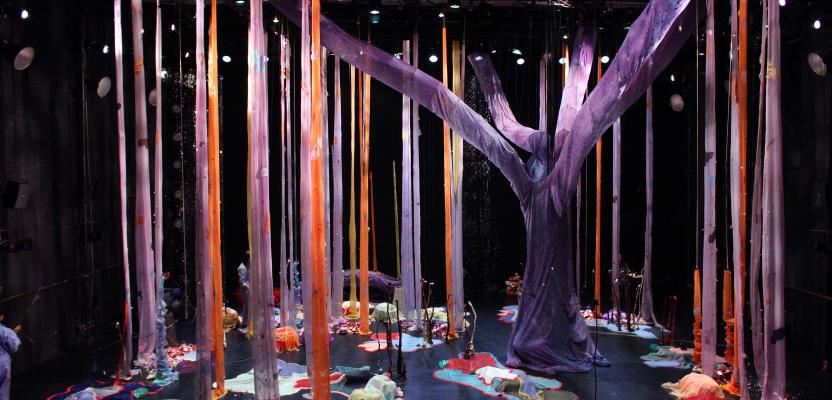 How to Build a Forest is a polysynthetic, interdisciplinary hybrid of a project. Part visual art installation and part theater performance, this durational event unfolds over eight hours.
Beginning in an empty space, visual artist Shawn Hall and theater/performance artists Katie Pearl and Lisa D'Amour—along with a four-person crew—work meticulously to construct, dismantle, and remove an elaborately fabricated forest. Inspired by 100 trees lost at a Louisiana family home following Hurricane Katrina, How to Build a Forest is also strongly informed by the ecological consequences of the 2010 BP oil spill in the Gulf of Mexico.

Contemporary Art Center
900 Camp Street, New Orleans
There are a number of How to Build a Forest performances and talks!
How to Build a Forest – Friday, October 23 – Thursday, October 29

Forest and Water in Dialogue: Artists and Scientists Contemplate the Gulf Coast, October 27th at 7pm
Panel discussion with How to Build a Forest artists, ecologist Dave Baker, artist Monique Verdin, and coastal geologist Alex Kokler about the current pressing environmental issues facing Louisiana.

Trees Talk: 10 Years of Recovery Research in a Louisiana Bottomland Hardwood Forest 2005-2015, October 28th at 3pm 
David Baker, Environmental Curator at A Studio in the Woods, tells the inspiring story of resilience and recovery of the Studio 8-acre forest with scientific research from pre- and post-Katrina. A forest ecologist, Baker studies long term changes to Louisiana's bottomland hardwood forests with a particular emphasis on how hurricanes and invasive species change these ecosystems.
On performance days, audience members can visit the forest at any time during its 8-hour life cycle, viewing it from afar, or up close, or side by side with the builders.