Resident Jebney Lewis' Songs of Home Songs of Change
May 2, 2016 @ 5:30 pm

-

7:30 pm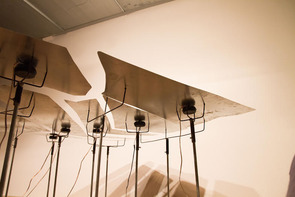 Two presentations of the collaborative project featuring current resident Jebney Lewis and Tulane faculty member Rick Snow.
Monday, May 2nd , 5:30pm-7:30pm
Tulane City Center, 1725 Baronne Street
Friday, May 20th-Friday June 26th
Opening on May 20th, 6pm-9pm
Creative Alliance of New Orleans (CANO)
1307 OC Haley Boulevard, 3rd Floor Myrtle Banks Building
Songs of Home Songs of Change is a cartographic audio installation piece collaboratively created by sculptor, Jebney Lewis, composer and electronic music artist, Rick Snow, writer, Christopher Staudinger, and a host of New Orleans high school students from Big Class, Si Academy, The Net Charter High School, Bard Early College of New Orleans, and Lusher Charter School. This installation features a map of the wards of New Orleans, rendered in steel plates and sonified by electric transducers. The plates play fundamental resonant tones and an array of field recordings. These recordings, and the writings that accompany them, have been gathered and written by over 40 area high school students in response to the prompt: "What does home sound like, and what are the sounds of its changing?"
On May 2nd, at 5:30pm, Locating New Orleans (at Tulane City Center) will host a showing of the sonified map and other student work that bears connection with the map exhibit. Students will be in attendance and will engage in a public dialogue with Tulane faculty about the themes of the work and about doing the writing and filed recordings involved in the creation process.
A more comprehensive presentation of the map and of other student artwork, writing, and photography will be hosted by Creative Alliance of New Orleans in the 3rd Floor exhibition space of the Myrtle Banks Building. There will be an opening for the show on Friday, May 20th from 6pm-9pm.