Tè Glise: Exploring Relational Ecologies of Cultural Practice through Haiti-New Orleans Connections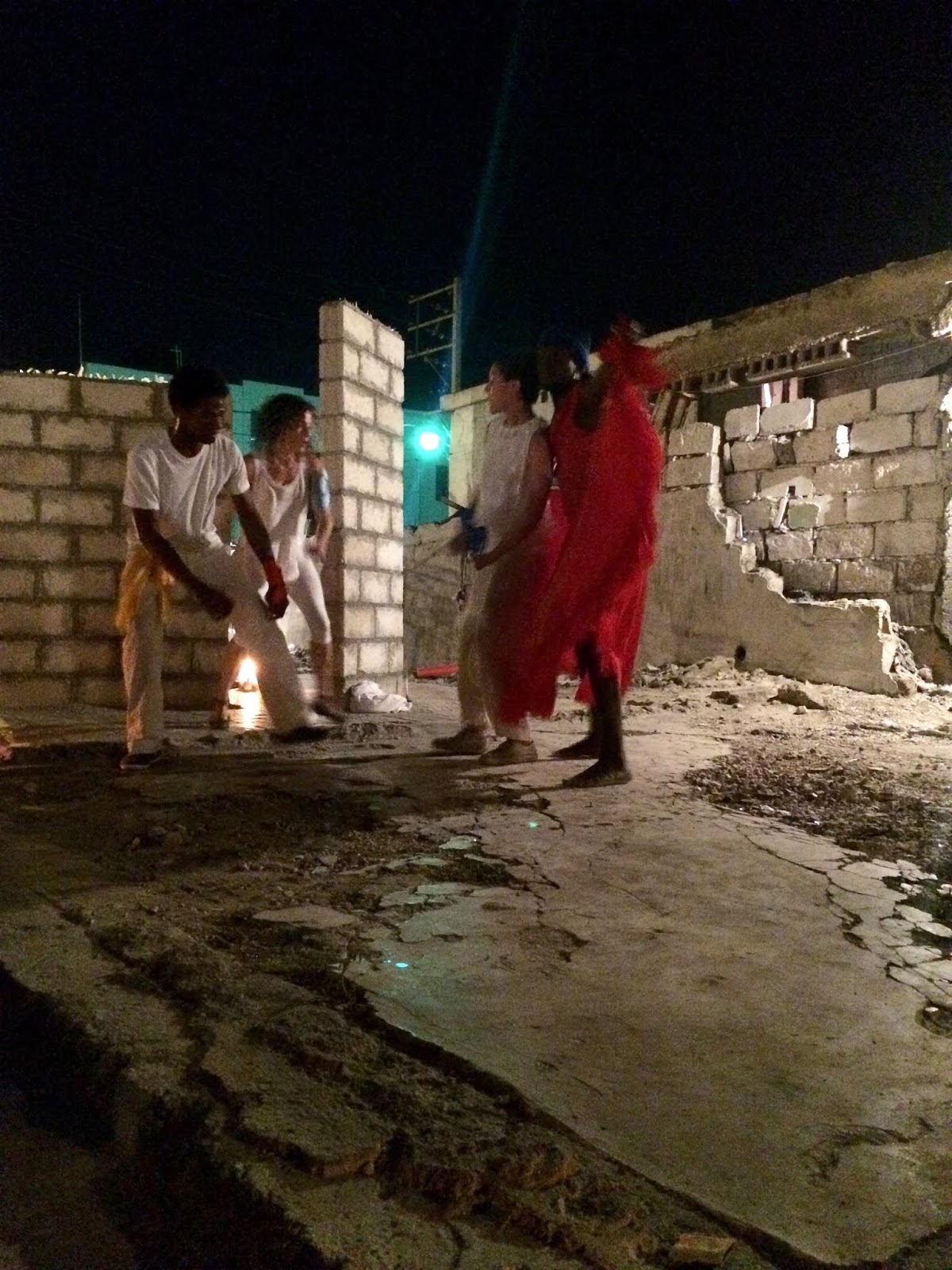 Cultivated by Dasha Chapman, Jean-Sebastien Duvilaire, Ann Mazzocca, and Phil Rodriguez, in collaboration with New Orleans-based artists
Tè glise, tè tremble. Sliding land, sinking land. This collaborative community-based performance project puts into conversation the artists' Haitian and broader African diaspora performance knowledges with New Orleans ecologies, with the intention of excavating the cultural survivals integral to both. Developed in relation to archival research, community engagement workshops, ethnographic and site-specific inquiry, the work explores the relationship between Haiti|Vodou and New Orleans cultural vitality as it relates to ecological precarity. The artists hope to contribute a contemporary Haitian perspective through this work, and the project's long-term nature is process-oriented, shared in multiple iterations.
On June 1st at 2pm at the New Orleans Jazz Museum, the artists offer components of the work produced during their residency at A Studio in the Woods. The event will be an open format, including dance and music performance, video, and conversation.
Bios:
Dasha Chapman is a scholar, dancer, and community connector. Dasha received her PhD in Performance Studies from New York University, and is a dancer who works in African diasporic techniques and collaborates with choreographers in New York, Haiti, and Durham, NC. She has collaborated with Jean-Sebastien Duvilaire and Ann Mazzocca on performance, teaching and writing projects since 2015. Currently Dasha is Visiting Assistant Professor of Critical Dance Studies at Hampshire College/Five College Dance. While Postdoctoral Associate in the Department of African and African American Studies at Duke University, Dasha worked alongside Duke's Haiti Lab, the Program in Gender, Sexuality and Feminist Studies, and Dance. In the summer of 2017 she was in residence at the Power Plant Gallery in Durham developing a local history performance project, "Haiti/Hayti/History." Her writing appears in The Black Scholar, Dance Chronicle, and Women & Performance: a journal of feminist theory in a special issue she co-edited on Queer Haitian Performance and Affiliation (May 2017). dashaarielchapman.wordpress.com
Jean-Sebastien Duvilaire (BabbaSeb) is a Haitian Artist and young Houngan who strongly believes in the use of the performing arts to trigger social change. He has trained in African and Afro-Haitian techniques, as well as in classical ballet, modern, and contemporary dance. Sebastien has worked with many artists internationally and travels to teach, choreograph, and collaborate with artists throughout the U.S., the Caribbean, and West Africa. He is the founder of the AfrikAyiti Project and always wishes to promote Africa together with Haiti in sharing his culture wherever he teaches or performs. He recently moved to Boston, where he has been working with JAE/Jean Appolon Expressions. Outside of JAE, Jean-Sebastien continues to teach and choreograph, pursue the study of Vodou and runs a small cacao processing company in Haiti called Dahomey. His commitment to cultural sustainability is mirrored in his work with Dahomey, which employs and networks small-scale cacao farmers in rural Haiti.
Ann Mazzocca is a choreographer, performer, scholar, and educator who received an MFA in Experimental Choreography from the University of California, Riverside and danced professionally with Haitian and Afro-Cuban folkloric companies for several years based in New York City. Mazzocca performs and presents her choreography based in Afro-Caribbean folkloric themes and contemporary postmodern approaches to composition on the local to international levels from New York City to Haiti. Since 2015, she has collaborated with Dasha Chapman and Jean-Sebastien Duvilaire in creating and performing site-specific works in Port-au-Prince and Jérémie. Her writing focuses on Haitian ritual choreography and African diasporic folkloric performance including a book chapter published in the edited volume, Vodou in the Haitian Experience: A Black Atlantic Perspective, multiple co-authored journal articles in The Geography Teacher and a forthcoming co-authored chapter in the Oxford Handbook of Shakespeare and Dance. Chapman, Duvilaire, and Mazzocca co-authored an essay with collaborator Yonel Charles, which appears in Women and Performance: a journal of feminist theory. She is an Associate Professor of Dance at Christopher Newport University in Newport News, VA. www.annmazzocca.com
Phil Rodriguez (B.A. Jazz Studies, University of Southern California Thornton School of Music) is a trumpet player and composer, with many years of professional freelance performing and recording experience in both Los Angeles and New York City. He has also toured nationally and internationally with a variety of groups, most recently as a member of funk/soul outfit Sister Sparrow & the Dirty Birds, who have collaborated and shared the stage with a number of New Orleans artists including Trombone Shorty, Rebirth Brass Band, George Porter, Jr. and Glenn David Andrews. Phil also tours with up-and-coming vocalist Kat Wright and will be participating in the Listen/Space Commissions Residency in Utah, June 2018. This is his first collaboration with the group. www.philrodriguezmusic.com