FORESTival Returns October 10th!
October 10, 2015 @ 11:00 am

-

5:00 pm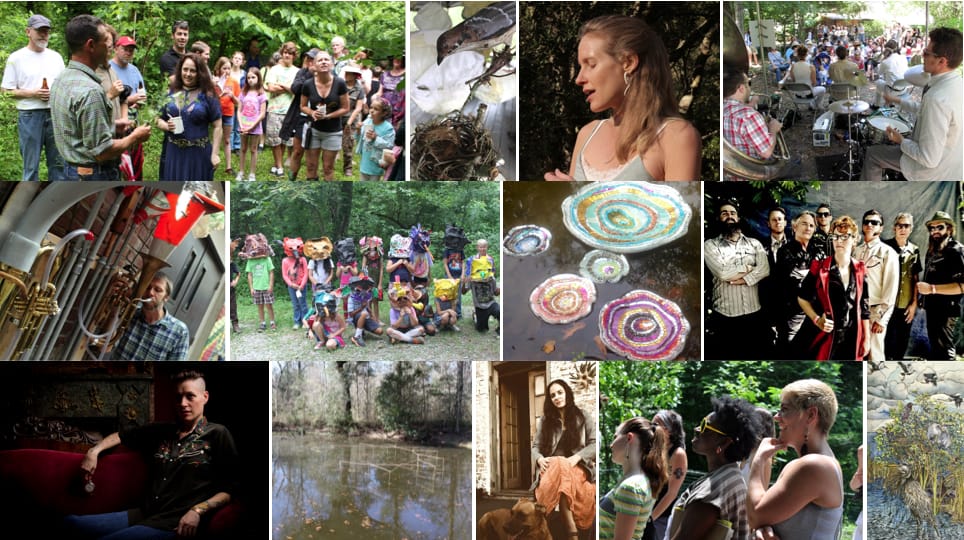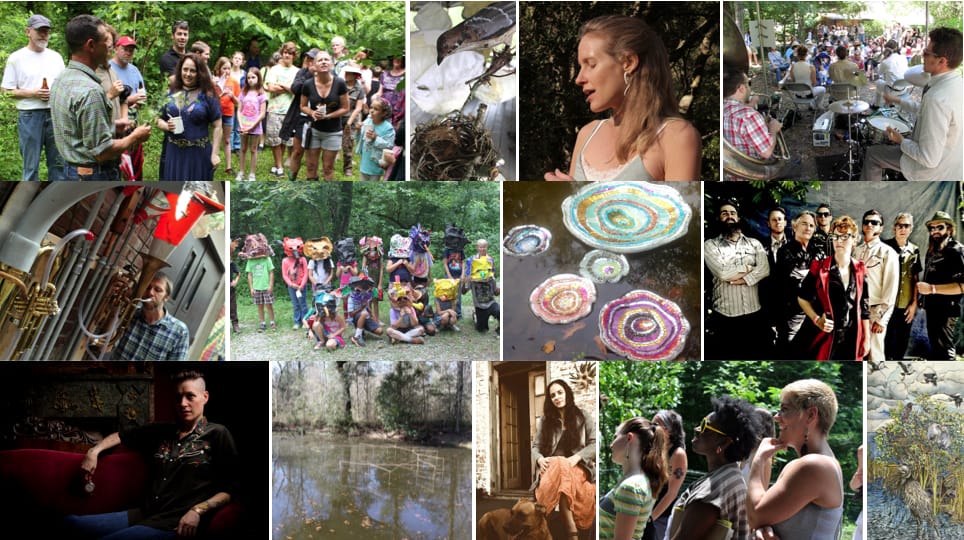 FORESTival: a celebration of art and nature at A Studio in the Woods
Saturday, October 10th, 2015, 11am-5pm
13401 Patterson Road, New Orleans, LA
Suggested Donation $5 at Gate
Musical performances by 
Gal Holiday and the Honky Tonk Review, Rory Danger and the Danger Dangers, and more!
Artist presentations by current and former residents
Jebney Lewis, Shay Nichols, Cry You One, Pippin Frisbie-Calder, Jessica Levine and Renata Ribeiro's Mockingbird Project, Roy Staab, Laurel True, Monique Verdin
How to Build a Forest
Preview an excerpt of Shawn Hall, Katie Pearl and Lisa D'Amour'sinterdisciplinary project
Art Activities in the Kids in the Woods Studio
Adventures in Clay with Jane Hill
Drawing with Debris with Jackie Ehle Inglefield and Elizabeth Larose

Walks in the Woods with Scientists
Including botanist David Baker, entomologist Mark Fox, and ornithologist Samantha Lantz
Special guests Audubon Louisiana will also be on site


Food and Beverage for purchase
Silent Auction and Raffle
Audubon Nature Institute, Audubon Louisiana, Penny Baker, Baskerville Letterpress, The Bead Shop, Lucianne Carmichael, Teresa Cole, Cry You One, Contemporary Art Center, CURE, Defend New Orleans, The Foundation Gallery, Friends of City Park, Claudia Garofalo, Kayak-ity-yat, LeMieux Gallery, Loews New Orleans Hotel, Louisiana Children's Museum, Louisiana Philharmonic Orchestra,  Love Swimming, Maypop Community Herb Shop, Mignon Faget, Mini Art Center, Benjamin Morris, New Orleans Akido, New Orleans Ballet Association, New Orleans Film Society, New Orleans Museum of Art, New Orleans Steamboat, New Orleans Ballet Association, Ogden Museum of Southern Art, Peche Seafood Grill, Potsalot Pottery, Frances Rodriguez, Rebecca Snedeker, Craig Taylor, Sarah Quintana, Wild Lotus Yoga, and more!

Patron Brunch, 10 – 11am
Music and light refreshments in the Stewards' Cottage exclusively for FORESTival donors at $100 and above
Check out these interviews with Dianne Mack on WWNO and Kathryn Hobgood on Tulane's The Green Room!
To support FORESTival and all of our programs, please visit our Support Page. 
Support FORESTival 2015 at any level and your name will be at will call. 
Parking is limited, save gas and carpool with a friend.
Event Sponsors include:
AOS, Brooke Anderson, Dawn Barrios, Jane Boettcher, Suzanne Chabaud, Ray Chin, Jackie Clarkson, Mary Len & Lou Costa, Judith Darensbourg, Julie Denslow, Doerr Furniture, Lee Dupont, Jane Eyrich, Bill Fagaly, Elaine Garvey, Susan & Bill Hess, Gail & Barry Kohl, Elizabeth Larose, Anthony Laska, Cathy Lazarus & Eric Simon, Sharon Litwin, Meltdown Popsicles, Joan Mitchell Center, NOLA Brewing Company, Pabst Blue Ribbon, Postlethwaite & Netterville, Purveyors of Fine Wine Ltd, Valerie Robinson, Jackie Sullivan, Valero Energy Foundation, Woody's Fish Tacos
FORESTival Commitee:
Lynne Burkart, Jacquelyn Clarkson, Mary Len Costa, Andrea Dewenter, Luann Dozier, Elaine Garvey, Cynthia Hedge-Morrell, Elizabeth Larose, Doug Meffert, Valerie Robinson, Jackie Sullivan