Sunday Dinner on the Bayou
February 21, 2016 @ 3:00 pm

-

6:00 pm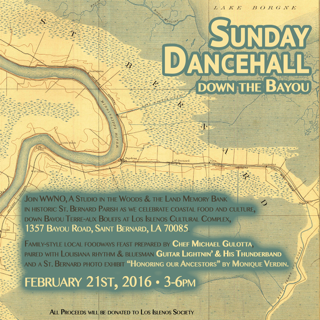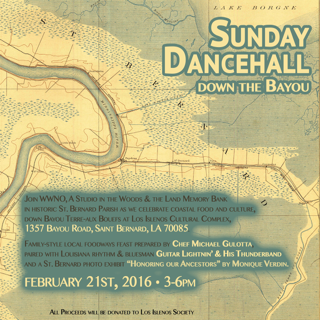 Join WWNO, A Studio in the Woods & The Land Memory Bank in historic St. Bernard Parish as we celebrate coastal food and culture, down Bayou Terre-aux Bouefs at Los Islenos Museum and Cultural Complex, 1357 Bayou Road, Saint Bernard, LA 70085.
Family-style local foodways feast, foraged by Blaise Pezold, prepared by award winning Chef Michael Gulotta (formerly of Restaurant August and current owner of Mopho Mid-City,) paired with Louisiana rhythm & bluesman Guitar Lightnin' Lee and His Thunder Band and a St. Bernard photo exhibit "Honoring our Ancestors" by Monique Verdin.
Saint Bernard, a sister Parish of New Orleans located just down river from the old city, has significantly contributed to the rich history and culture of Louisiana. Indigenous peoples once lived along the parish bayous and prairies, and in cypress swamp forest that were once so thick one could not see the sun. Early colonial journals note that the "boeuf savage," buffalo, roamed along the historic distributary now known as Bayou Terre-aux-Boeufs. The Islenos, Canary Islanders, were settled along the historic bayou in the seventeen hundreds, when the Spanish had possession of the Louisiana territory. Italians, Creoles, Africans, American Indians, Acadians, Spaniards, former Yugoslavians and many others have called these fertile lands and bountiful waters home.
Across south Louisiana, there once was a thriving dancehall tradition. Just about every small community had a dancehall, sometime two or more even. These were sacred places, where community would gather to dance and eat and talk and celebrate. Unfortunately, like our coastal wetlands, the dancehall culture is disappearing in St. Bernard.
In an attempt to resurrect the old community rituals, WWNO, A Studio in the Woods and The Land Memory Bank have partnered to present a Sunday Dancehall down Bayou Terre-aux-Boeufs. Join us as we celebrate coastal food and culture and converse about southeast Louisiana's hopes, challenges and adaptations.
Coastal converstation facilitated by A Studio in the Woods artist in resident Christy George and Tulane University faculty partner Laura Murphy, PhD, Carnegie Corporation of New York Professor of Social Entrepreneurship (Department of Global Community Health and Behavioral Sciences and the Phyllis M. Taylor Center for Social Innovation and Design Thinking.)