The Depth Procession, Go Low Go Light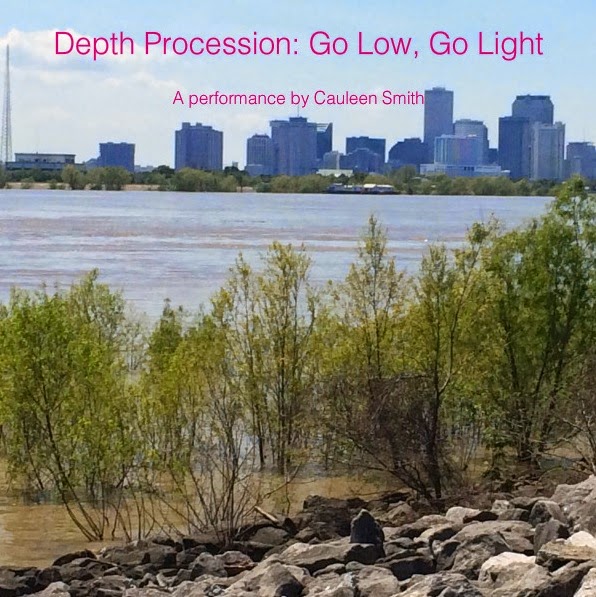 On Saturday, June 7th Cauleen Smith, joined by Rebecca Snedeker (co-author of Unfathomable City with Rebecca Solnit) and Jewel Marie Bush ( journalist and founder of Melanated Writers Collective) embarked on a procession through space and time, across rivers and back, down low and underneath. THE DEPTH PROCESSION: Go Low Go Light New Orleans was a cinematic adventure – a film shoot happening in real time with real people and imagined circumstances. Guests joined them on the DJ CLUB WHATEVER PARTY BUS for a ride across the Mississippi in search of intergalactic musical signals from down deep created by musicians Greg Shatz on Bass, Charlie Joseph on Trombone, and Monica McIntyre on Cello. Conversation, sounds and light refreshments offered the bus. Parasols, sounds and contemplation offered on the river. Go Low and Go Light with The Depth Procession.
Caution: There will be moments of intense bass vibration.
Depth Procession: Go Low Go Light New Orleans and H-E-L-L-O was commissioned by En Mas': Carnival and Performance Art of the Caribbean curated by Claire Tancons and Krista Thompson for CAC New Orleans in collaboration with Independent Curators International. En Mas' is made possible by an Emily Hall Tremaine Exhibition Award. Additional support is provided by The Andy Warhol Foundation for the Visual Arts. The exhibition will debut at CAC New Orleans in Spring 2015, and will tour through to 2018.
Depth Procession: Go Low Go Light New Orleans
 and 
H-E-L-L-O 
was, in part, inspired by the map "Bass Lines: Deep Sounds and Soils" in 
Unfathomable City: A New Orleans Atlas
 and is part of the 
Unfathomable City: A New Orleans Atlas
 Printing and Public Project series. This series was created in partnership between the New Orleans Museum of Art, A Studio in the Woods, and coauthors 
Rebecca
 Solnit and 
Rebecca
 Snedeker, with the support of the National Endowment for the Humanities.