FORESTival: A Celebration of Art and Nature
November 13, 2021 @ 11:00 am

-

5:00 pm
FORESTival is back! Join us at A Studio in the Woods on Saturday, November 13, 2021, 11am – 5pm for our 11th annual celebration of art and nature.
We are thrilled to welcome our community back to the Woods after a year and a half apart. Time in nature, time together, and time spent engaging with art and music are what our souls need right now. We are excited to provide that in a spacious, safe and beautiful outdoor setting.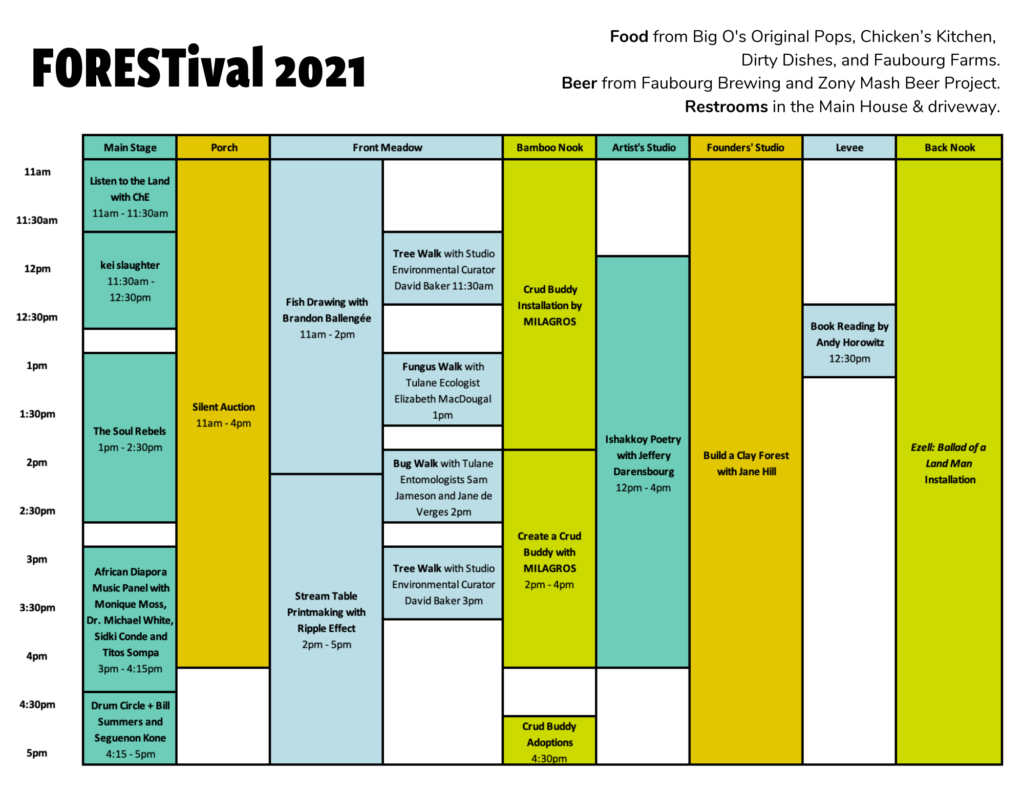 Music!
Art & Activities!
Listen to the Land with ChE at 11am-

 Led by former Adaptations Resident

ChE

, an opening circle will create space to Listen to the Land. We will connect to the complex histories of oppression, resistance, and adaptation this land has witnessed. This Afro-Indigenous land acknowledgement and affirmation invites participatory presence through an offering of libation, song, and breath.

Book Reading by Andy Horowitz at 12:30pm – Former Scholarly Retreat Resident Andy Horowitz will read on the levee from his book, Katrina: A History, 1915-2015, which explores how engineers and oil executives, politicians and musicians, and neighbors Black and white built New Orleans, then watched it sink under the weight of their competing ambitions.
Gulf Fish Drawing with Brandon Ballengée 11am – 2pm – Current Special Collaboration Resident Brandon Ballengée will lead a fish drawing workshop. Participants will learn about how environmental disasters have affected gulf fish species while creating art about these fish. Brandon Ballengée is a visual artist, biologist and environmental educator based in Arnaudville.
Indigenous Poetry with Jeffery Darensbourg 12pm – 4pm – Former Adaptations Resident Jeffery U. Darensbourg will lead a found-poetry workshop in Ishakkoy. Jeffery U. Darensbourg is an enrolled member and tribal councilperson of the Atakapa-Ishak Nation of mixed Native and Louisiana Creole ancestry. His work explores the intersections of cultural studies, mixed ethnicity, and Indigeneity.
Crud Buddies with MILAGROS 2pm – 4pm – Recent Rising Residents MILAGROS will bring Crud Buddies made from plastics fished out of the river for folks to find, decorate and adopt as their own. MILAGROS co-founders Felici Asteinza and Joey Fillastre, along with their ever-changing cast of collaborators, create site-specific works that explore the history of place through striking arrangements of color and mark.
Stream Table Printmaking with Ripple Effect 2pm – 5pm – Ripple Effect, a nonprofit environmental education organization that fosters water literacy, will use stream tables to simulate river modeling and lead participants in making monoprints inspired by Howard Fisk's 1944 maps of the Mississippi River.
Build a Clay Forest all day – The FORESTival favorite is back! Former Restoration Resident Jane Hill will lead participants in creating a collaborative forest out of clay, sticks, and imagination.
Walks in the Woods at 11:30am, 1pm, 2pm and 3pm.– Learn more about the land – from the trees to the bugs to the fungi to the environmental threats it faces – on Walks in the Woods with Environmental Curator David Baker, Tulane Ecologist Elizabeth MacDougal, and Tulane Entomologists Sam Jameson and Jane de Verges.
More!
Suggested donation is $15 per adult, kids free. Ticket packages with perks and sponsorship opportunities available. All proceeds support the programming of A Studio in the Woods. Located on the west bank in Lower Algiers at 13401 Patterson Road, New Orleans LA, 70131 – about a 25 minute drive from downtown New Orleans. Parking is limited, carpooling is encouraged.
Want to volunteer at FORESTival? Email us at [email protected].
No outside food or beverages. Dogs are not able to attend FORESTival unless they are a registered service animal.
Proof of vaccination or negative PCR test within 72 hours will be required for those 12 and up to enter. Masks encouraged. 
FORESTival is supported by Arbors Estates of Orleans, Susan & Ralph Brennan, Tom & Ellen Prewitt, Hancock Whitney Bank, Bayou Tree Service Inc, Carter & Company CPA, Delisha Boyd LLC, Harbor Towing and Fleeting, Rouses Markets, Crescent Crown Distributing, Power System Specialists, Zony Mash Beer Project, and Elite Water. FORESTival is presented in partnership with the New Orleans Tourism and Cultural Fund. This program is funded under a grant from the Louisiana Endowment for the Humanities, the state affiliate of the National Endowment for the Humanities. Any views, findings, conclusions or recommendations expressed in this program do not necessarily represent those of the National Endowment for the Humanities.