Announcing 2019-20 Adaptations Residents
August 19, 2019
Adaptations Residencies invite artists to examine how climate driven adaptations – large and small, historic and contemporary, cultural and scientific – are shaping our future. Adaptations Residencies provide artists with time, space, scholarship and staff support to foster critical thinking and creation of new works. For 2019-2020, our jury has selected the following six artists and collaboratives to be in residence from an applicant pool over over 150 projects, representing a variety of media and approaches to the theme.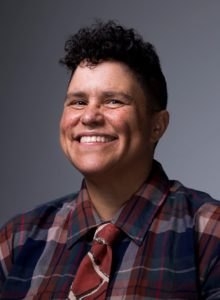 Danielle Abrams
Performing Artist
Massachusetts
www.danielleabrams.comDanielle Abrams will work with New Orleans' elder African-Americans to create work that responds to the participants' memories of Lincoln Beach, a segregated African-American recreational area that was open from 1954-1963. Oral histories and historical research will synthesize with imagery that depicts a New Orleans of the past and the future. Abrams is a performing artist whose works blend scripted and improvised language to create an autobiographical and radical portrait of being mixed race in America.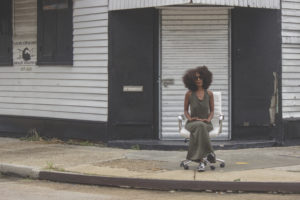 kai barrow
Visual and Performing Artist
Louisiana
https://www.kailbarrow.com/
kai barrow will continue work on "A CHORUS OF OUTLAWS," a multimedia assemblage of 16 life-sized 'singing' sculptures depicting ancestral muses and cacophonies of sound. The sculptural works will feature the recorded voices, ecologies, and sounds of historic and contemporary refugees, fugitives, and nomads—people who demonstrate radical imagination to both escape environmental and carceral harms and to create sustainable communities elsewhere. barrow is a visual and performance artist who lives and works in New Orleans and is concerned with notions of radical imagination.
Jeffery Darensbourg
Visual and Literary Artist
Louisiana
bulbanchaisstillaplace.org
Jeffery Darensbourg is interested in the knowledge of flora, fauna, and people his Atakapa-Ishak ancestors carried with them and wishes to connect this sort of Louisiana-specific knowledge to the knowledge urban Natives such as himself have in negotiating Indigeneity, within the contemporary milieu of city life in our current social and economic climate.  Jeffery U. Darensbourg is an enrolled member and tribal councilperson of the Atakapa-Ishak Nation of mixed Native and Louisiana Creole ancestry. His work explores the intersections of cultural studies, mixed ethnicity, and Indigeneity.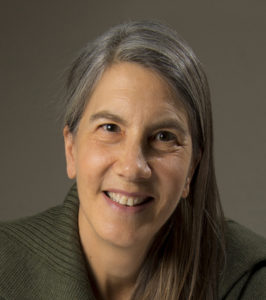 Margaret Pearce
Visual Artist and Cartographer 
Maine
Margaret Pearce, a citizen of the Potawatomi Nation, will continue research for "Mississippi Dialogues," a three-year project to map public opinion about flooding into an Indigenized map of the Mississippi River. She will use her residency to be in proximity to Indigenous communities of the Delta while researching their place-worlds with their permission, and for sustained focus on translating those worlds into the design and layout of the panels. Margaret Pearce is a cartographer and writer based in Rockland, Maine. She sees cartographic language as a powerful mode of graphic expression complementary to writing and speech, where narratives and dialogues across cultures and between viewpoints can be explored and new possibilities given room to emerge and flower, in particular for the expression of Indigenous geographies.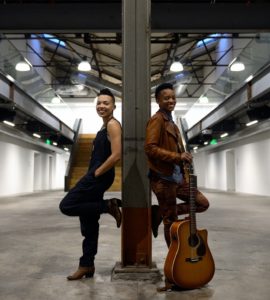 kei slaughter and ChE
Performing Artists
Louisiana
www.keislaughter.com – www.che-art.life
kei slaughter and ChE will work on "The People Can Fly," a land-responsive performance ritual rooted in Queer Afro-Indigenous cultural strategies to address issues of climate gentrification, environmental racism, and land displacement for communities most impacted by climate adaptations. kei slaughter is an interdisciplinary performing artist, vocalist, multi-instrumentalist, composer, and music therapist. Born and raised in New Orleans, they believe in the power of music to carry ancestral medicine, conjure freedom, and activate sustainable joy. ChE is a proudly Queer, Gender-expansive Afro-Indigenous artist-healer, educator, and movement organizer. They weave ancestral ritual, liberatory facilitation, and socially-engaged artmaking to transform systems of oppression and conjure expansive worlds of Freedom!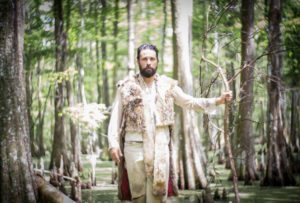 Nick Slie
Performing Artist
Lousiana
www.mondobizarro.org
Nick Slie, is embarking on "Invisible Rivers," a series of performative public walks that seek to re-engage citizens with the wisdom of adaptation and uncertainty inherent in the once wild paths of the Mississippi River outlined by Harold Fisk's maps nearly 75 years ago. Each walk is part of a cultural organizing strategy that will culminate in the Floating Adaptations Performance and Cultural Organizing Summit on Bayou St. John in Spring 2021. Nick Slie is a New Orleans-born performer, producer and cultural organizer. He is the Co-Artistic Director of Mondo Bizarro and an Associate Professor of Theater at Nunez Community College. Nick's creative endeavors range from interdisciplinary solo performances to large-scale community festivals, from innovative digital storytelling projects to site-responsive productions. Photo by Zack Smith.
This year we received an overwhelming number of compelling applications. While we are limited in the number of residencies we can award, we would like to recognize the following semifinalists for their strong applications and commitment to their practice: Monica Barra & Karen May, Mara Marxt Lewis and Tyler Lewis, kara lynch, LaChaun Moore, Nonney Oddlokken, Stacy Platt, Joel Scilley, and Rosalie Smith.