Announcing Emerging Writers' Residencies
August 11, 2020
In celebration of our newly completed Writer's Cabin, we have designed Emerging Writers' Residencies to support our local literary community. These competitively-selected one-week residencies support emerging poets, playwrights, composers, and prose writers (fiction and nonfiction) living in southeast Louisiana.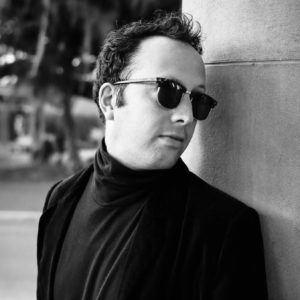 Benjamin Aleshire is a poet who for many years has made a living by composing poems for strangers on a manual typewriter – on Royal Street in the French Quarter, as well as in Paris, Havana, Madrid, New York, London, Montréal, and San Francisco. He also has a background in photography, printmaking, book-arts, music, and theatre. Aleshire has toured internationally as a trumpet player, exhibited his letterpress broadsides in museums, performed in burlesque shows, and once ran away with a Mexican circus. At A Studio in the Woods, he will be polishing an autofiction novel manuscript, POET FOR HIRE, which incorporates many of these experiences. He will also be revising a poetry manuscript, FAKE NOOSE—a collection of (mostly political) poems written for strangers through the years. Photo by Clare Welsh.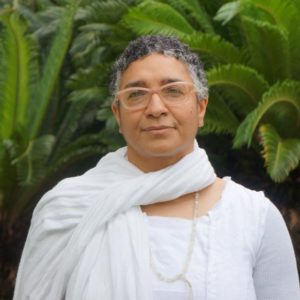 Wendy Gaudin is an essayist, a beadworker, a poet, an American historian, and the proud descendant of Louisiana Creoles who migrated to California.  Her nonfiction writing delves into the themes of race and belonging, skin color and ancestry, colonialism and family narratives, migration, sexuality, oral history, and hybridity.  While in residence, Gaudin will be working on her original manuscript, "Creole: A Brief History of Louisiana People," which is under contract with LSU Press. She will also supplement her writing with beadwork, which is connected with Creole culture and history. Photo by Bart Everson.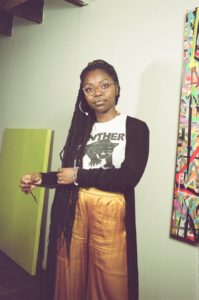 Ra Malika Imhotep is a Black feminist writer and performance artist from Atlanta, Georgia deeply invested in Black storytellin' practices and the ways our bodies make sense of language. As co-convener of an embodied spiritual-political education project called The Church of Black Feminist Thought, Ra facilitates spaces of critical reflection with the work of Black feminist world-makers. While in residence Ra will be working on a hybrid work of creative nonfiction that speaks to and with "the illustrious Negro dead" inspired by correspondence between Zora Neale Hurston and W.E.B DuBois. In 1945, Hurston envisioned a sacred 'resting place' for Black genius nestled in the lush geography of the South. Ra's project will be an effort to write towards that space by weaving together pieces of poetry and prose written in tribute to different Black folks who, in life and death, have marked Ra's engagement with the world. Image courtesy of the artist.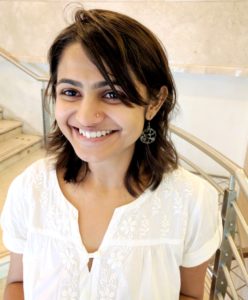 Saheli Khastagir is a painter, writer & development professional from India, living in New Orleans. One third of her days are spent providing professional service in monitoring and evaluation, technical writing and research for programs spanning gender, education, health, labor, child protection and youth across the Global South. Another third of her days are spent making paintings of surreal worlds through which she tries to make the viewers take a leap of empathy and imagination. The rest of the time, she writes poems, fiction and essays to hold her reachings and longings. During her residency, she will be working on her first collection of poems (tentatively called "Doorways") exploring the ideas of home, rootedness and belonging. Photo by Anjana Thampy.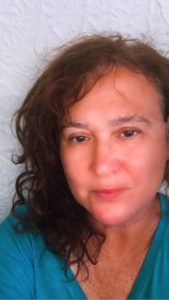 Su Prevost is a climate activist, teacher, writer, and South Louisiana water baby whose creative writing process incorporates nature's turmoil, subtleties, and all the beauty of home into narratives that highlight her formative challenges for survival. She utilizes regional and emotional places to reflect upon and illuminate the touchstone issues of queerness, race, and gender. Prevost maintains that she just may be a humble mouthpiece for what her parents and ancestors couldn't or wouldn't access. While in residence Prevost will work on a novel in verse about the struggle of a girl's early loss of her father and her subsequent scrappy piecemeal survival.  Enter the questions of God, sexual identity, and race. Enter the inheritance of unclaimed familial roots and truths – from San Ciparello, Sicily to Indian Village in St. Tammany Parish.  While at A Studio In The Woods, Su is looking forward to learning about the flora and fauna of our setting for inclusion in her current work. Image courtesy of the artist.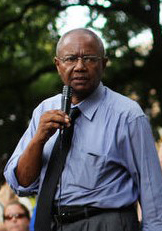 Leon August Waters is a New Orleans native, historian, publisher and social activist. Waters attended Xavier University for Business Administration and graduated from St. Augustine High School. He serves as the Board Chairperson of the Louisiana Museum of African American History (LMAAH). As a licensed tour host, he has been directing tours on 'hidden history' for 25 years and is also the manager of Hidden History, L.C.C. – a publishing, touring, and research company. While in residence Waters will be working to adapt his book, On To New Orleans: Louisiana's Heroic 1811 Slave Revolt, as a high school textbook and incorporate new research from archives in France, Spain, Martinique, and Haiti. Image courtesy of the artist.
While we are limited in the number of residencies we can award, we would like to recognize the following semifinalist writers for their strong applications and commitment to their practice. We would also like to express deep appreciation to our jurors for their thoughtful work in selecting this year's residents.
Semifinalists 
Ariadne Blayde, Alecia Desselle, Delaney Nolan, Philana Omorotionmwan, Colleen Rothman, Shana Turner, Danielle Unger, and Kelsey Wartelle.
Jurors
Byron Asher, Musician, Former Resident
John DePriest, PhD, Linguist and Musician
Ladee Hubbard, Writer, Former Resident
Renée Peck, Editor, NolaVie  
Karisma Price, Visiting Assistant Professor, Department of English, Tulane University
Kristina Kay Robinson, Writer, Curator, and Visual Artist