Meet the Founders
June 8, 2023
A Studio in the Woods began as the homestead and studios of Lucianne and Joe Carmichael. In 1969, the Carmichaels purchased the site and sought to preserve the 7.66 acres of bottomland hardwood forest for its great value as wetlands and as a powerful source of creative inspiration and education. Learn more about the history of the land here. For thirty years they created ceramics, wood and metal sculptures, and furniture in their tranquil forest by the Mississippi River while Lucianne served as the innovative principal of McDonogh #15 elementary school in the French Quarter and Joe lobbied on behalf of public education in Baton Rouge. The Carmichaels frequently offered students, artists, educators and environmentalists opportunities to visit and learn about the natural environment and its creative power. From this activity grew more formal artists residencies and the need to support these residencies financially. In 2001, with the encouragement and consultation of artists, environmentalists, and wider community members, A Studio in the Woods was formed.
Lucianne Bond Carmichael was born November 11, 1931, in Toronto, Canada. Many of her formative years were spent in and around rural Stony Lake. At a young age, she impressed her family with her active mind, artistic nature, and drive.
At the age of four Lucianne was knitting. Her time spent in the Canadian woods and enjoying the lakes developed within her a deep appreciation for the beauty and art in nature and the importance of its preservation. When her mother remarried, Lucianne moved with her to the United States. She earned her degree in education from Allegheny College, Meadville, Pennsylvania, in 1953 and got her teaching certificate.
From 1960 to 1964 she was teacher/principal of La Petite Ecole, a nonpublic elementary school. In the 1960s the federal Elementary and Secondary Education Act began pumping money into under preforming schools. On June 20, 1971, Lucianne married Joe Carmichael who became her loving, supportive husband of 45 years.
In 1985, after 20 years in public education, Lucianne retired. Immediately her teaching experience merged with her pottery talent. She cherished the time she spent in India teaching, and being taught by, indigenous female potters. As her skills developed, Lucianne and Joe (who had become involved in woodworking) began going to craft shows. They showed at the Jazz and Heritage Festival for several years and won "Best of Contemporary Craft" in 1992. You can read more about Lucianne's life in this obituary.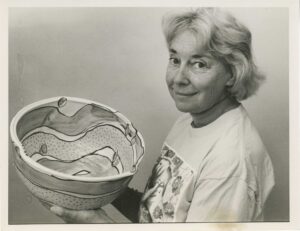 Born on October 19, 1927 in Sabinal, TX, Joe Miller Carmichael grew up with no electricity or running water, a rudimentary telephone and an unparalleled curiosity about the world and its parts. An only child, Joe's friends were the animals around the ranch – chickens, horses, and his pet javelina. After a brief career in the army, Joe pursued higher education at Trinity University in San Antonio, TX, and the Medill School of Journalism at Northwestern University in Evanston, IL.
In 1953, a job writing for the Times-Picayune brought him to New Orleans. In the 1960's he transferred his writing skills to crafting funding proposals for the New Orleans school system. It was there that he met Lucianne, who was working at McDonogh 10 School at the time, teaching reading in a new "experimental" way.
In 1969 they purchased 7.66 acres of bottomland hardwood forest in Lower Coast Algiers where – with the help of many friends – they built a home, then studios, then an entire nonprofit organization devoted to supporting artists in connecting with the natural world. In retirement Joe and Lucianne became craft artists, regularly hosting friends on their land to create art. Visitors would often suggest, "This ought to be a place for artists." The Carmichaels researched and visited several artist residencies and in 2001, with the encouragement and consultation of artists, environmentalists, and community members, A Studio in the Woods was formed as a nonprofit. You can read more about Joe's life in this obituary by John Pope and this listing written by friends and family.
More photos of both Joe and Lucianne can be found here in the Tulane archive.