Listening to the River
August 23, 2015 @ 3:00 pm

-

5:00 pm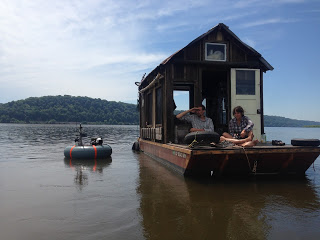 Previous ASITW residents, Monica Haller and Sebastian Muellauer are traveling down river for the month of July, mapping the sounds of the river from headwaters to the delta.
They are using an underwater microphone (hydrophone), a robot buoy that records the sounds, documents the route, sights and observations along the way. The culmination of the trip is New Orleans where they are planning small actions of "listening to the river." This articulates itself as an informal "listening station" where residents are invited to specific points of the waterfront to listen. There, they settle down next to the river to hear the water passing by. The buoy suspends the hydrophone in the river. Listeners sit, lie, "plug in" to the water. It's a simple action that people often find quite powerful. The sound streams live for anyone listening from afar.
You are invited to the river's bank to participate.
Join us at the Audubon Park "Fly" by the old riverboat dock on Sunday, August 23rd from 3-5pm*
*Please check back here in case of rain.